100% Original Autel MaxiCOM MK908 All System Diagnostic Tool Support ECU/Key Coding Updated Version of Maxisys MS908
Looking for help? or Get More Discount
Please contact WhatsApp:
+1 850 888 8336
Weight: 15kg
Size (LxWxH):
31.20cm x 20.80cm x 3.60cm
Product Description
Autel MaxiCOM MK908 Scanner Diagnostic Tool Automotive Code Reader

Highlights of Autel MaxiCOM MK908:

1. Upgraded Version of MS908 MaxiSys
2. Support All-Around Diagnoses and ECU Programming
3. Ultimate Configurations for Super-Level Diagnosis
4. Multiple Language Supported: English, Spanish, French, German, polish,Italian, Japanese, Korean, Dutch, Portuguese, Turkish, Swedish, Thai, Arabic, Russian, Chinese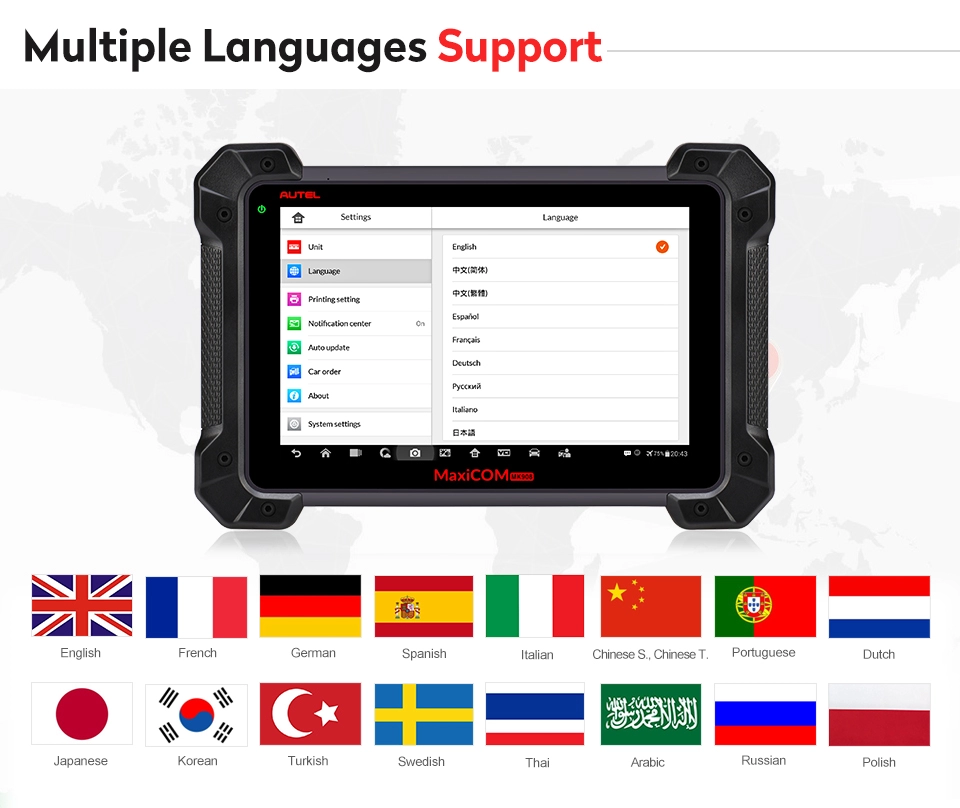 Description:

Autel MaxiCOM MK908 Diagnostic Platform is an evolutionary smart solution for specialized automotive diagnosis. Utilizing the powerful A7 quad-core 1.30GHz processor, and a 10.1-inch capacitive touch screen, combined with the best possible coverage of OE-level diagnostics, and based on the revolutionary multitask- capable Android Operating system, the MaxiCOM organizes information with test instrumentation to help you diagnose symptoms, codes, and customer complaints easily, quickly and efficiently.

Features:

1. Generic OBD II operationsfor retrieving OBD2 vehicle diagnosticinformation;
1) Read Codes – displays detailed information of DTC records retrieved from the vehicle controlmodule.
2) Erase Codes – erases DTC records and other data from the ECM.
3) Live Data – retrieves and displays live data and parameters from the vehicle's ECU.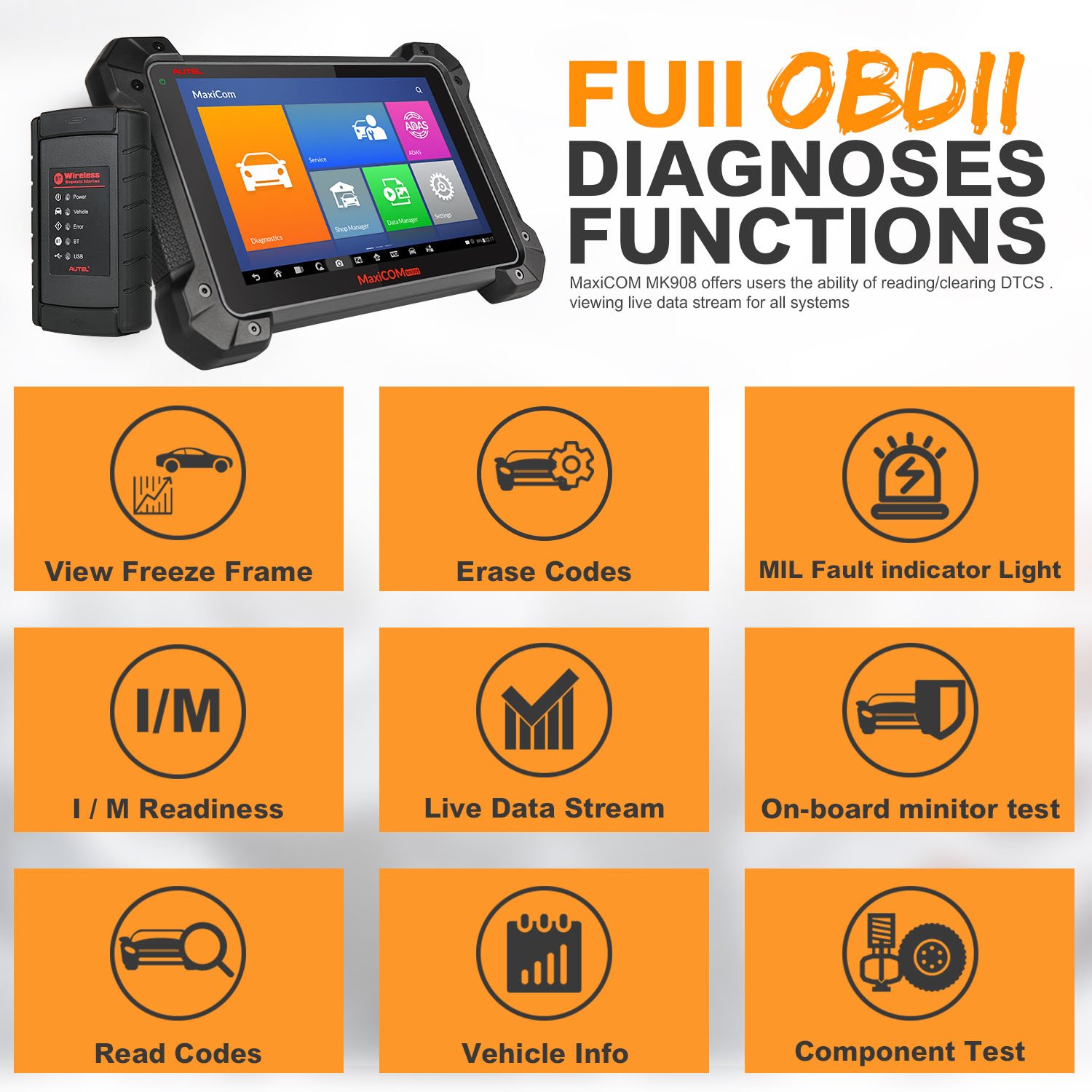 2. Special functions for various scheduled service and maintenance performances;
Oil Reset: Remindsyou to change the oil when required.
EPB: Reads,clears and offers electronic park braking on flat roads.
BMS: Shows allthe information related to the battery management system.
ABS: Reads andclears anti-lock braking system problems.
DPF: Showserrors in the DPF system (removes soot from exhaust system).
TPMS: Monitorsair pressure in the tires.
IMMO: Used forenhancing car security by serving as a code that starts the engine.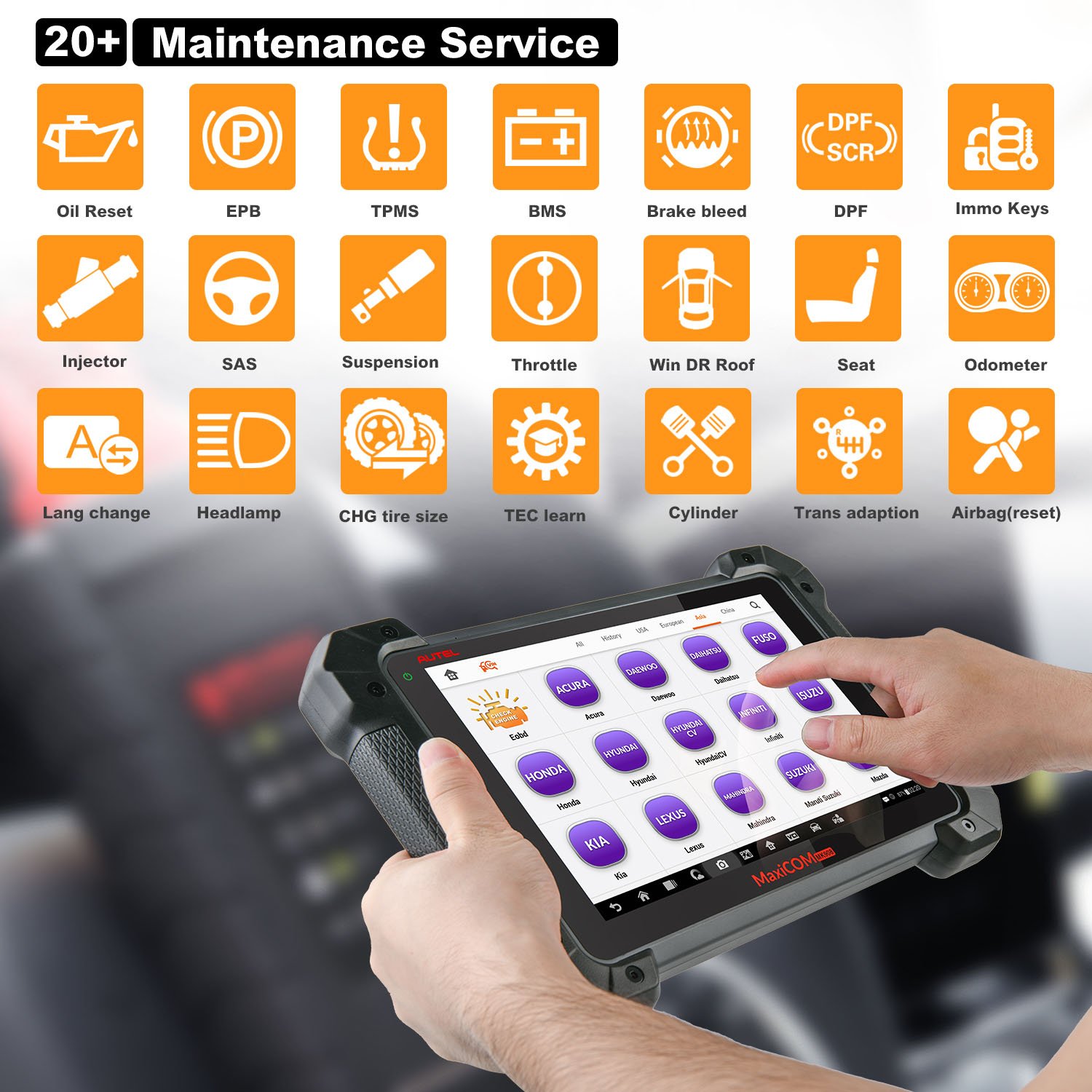 3. Active test for figuringout whether a specific subsystem or component in vehicles goes well.
Unlike conventional scanners, MK908 users can get access to the vehicle-specificsubsystem and component parts, and output commands to the related ECU, thusdriving the actuators to perform a specific function for determiningthe integrity of the systemor parts by reading the engine ECU data, or bymonitoring the operation of the actuators, such as switching a solenoid, relay,or switch, between two operating states.

4. Ultimate Configurationsfor Super-Level Diagnosis
1) Super CPU & RAM: This Android OS-based, tablet-style scanner sports an extremely powerful Hexa-Core 1.3GHz + 1.7GHz processor, and makes use of the internal 64GB solid-state drive, along with 2GB of RAM, for super speedy and smooth performance. However MS908, by contrast, only gets 1.4GHz Quad-Core Processor and 32GB SSD
drive.

2) More Intuitive Display: Unlike MS908 supports 9.7" 1024*768 display, the image clarity image is more admirable in MK908. It is equipped with a 10.1", 1920*1200 resolution and back-lit LED multi-touch capacitive display for better user experience. Moreover, there's a built-in 8MP camera with a flashlight and autofocus. Compared with 5MP camera equipped in MS908, you will take more detailed snapshots for deeper analysis. Also, saving that and all the diagnostic data/files are quite easy thanks to 64GB on board memory space (only 32GB in MS908) at your disposal.

3) Ergonomic Design: The product has been designed to be carried single handy yet it doesn't mean it will fit in pocket. In particulars on the outside you will see it adopts the real rubber protection design on the both sides to be more ergonomic, and to resist damage of daily heavy use for maximum longevity

4) Useful Multitasking: The diagnostic scanner incorporates high-quality diagnostic protocols with multitasking capable software, so it shouldn't come as a surprise that this scan tool not only has amazing speeds, but also gets the ability to multitask, to help you to keep an eye on impacts on other parts, while fixing a particular part of the engine.

5. Autel MK908 ECU Programming & Coding:
The diagnostic tool can replace the existing software/firmware in the ECU, program new ECUs and fix software-controlled driving performance and emission issues. Since the introduction of OBD II and leading up to modern Hybrids and EVs, computers and software in cars have been expanding at an exponential rate. In-car software is becoming one of the leading needs for service, and updating software may be the only way to fix some of these issues:

-Drivability
-Fuel Efficiency
-Power Loss
-Fault Codes
-Durability of Mechanical Parts

The Programming and Coding function is used to re-flash the vehicle control modules, it allows you to update the computer software on the vehicle to the latest version, as well as to reprogram adaptive data for certain components after making repairs or replacements.