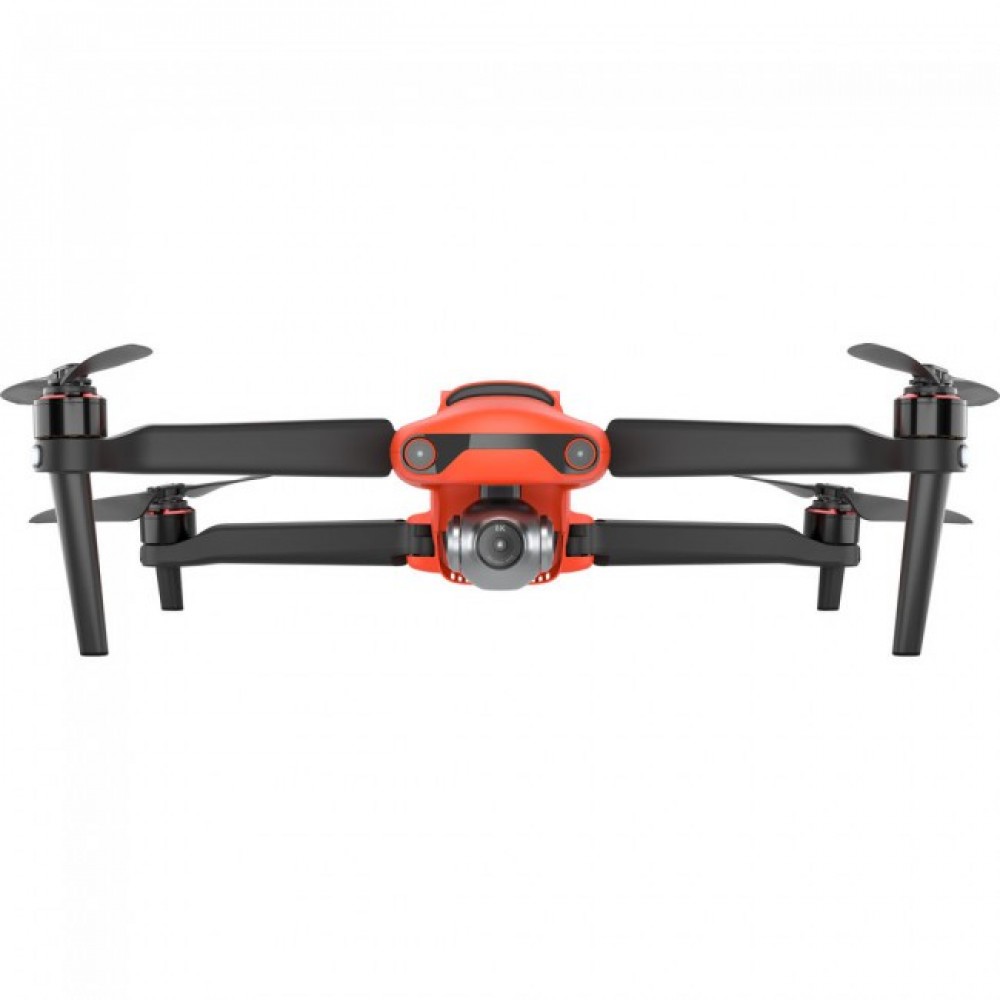 Autel Robotics EVO II 8K Drone Camera, Portable Folding Aircraft with Remote Controller, Captures Incredibly Smooth 8K Ultra HD Video and 48MP Photos
Looking for help? or Get More Discount
Please contact WhatsApp:
+1 850 888 8336
Product Description
Autel Robotics EVO II 8K Drone Camera, Portable Folding Aircraft with Remote Controller, Captures Incredibly Smooth 8K Ultra HD Video and 48MP Photos
Highlights for EVOII 8K Drone: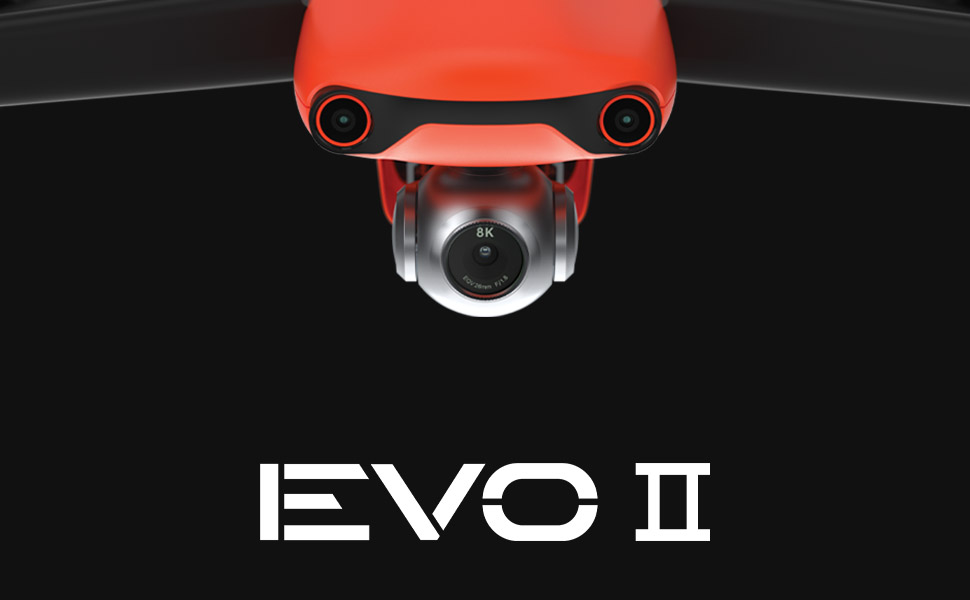 1. 
40 Minutes Of Stable Flight Time
: From inspecting electrical cell towers to surveying property lines, the EVO II was designed to provide enough flight time to capture all the data needed.
2. 
Lightweight Foldable Design
: Deployed in under 30 seconds, the 2.5lb EVO II is ideal for rapid deploying missions with a minimal footprint both in the air and for seamless transport.
3.
 Patented Locking Propeller Design
: No tools required, quick release foldable propellers for the EVO II securely lock with a meticulously designed built-in locking mechanism.
4. 
Interchangeable Payloads
: Designed for versatile operations, pilots can alternate between the 8K, 6K, and DUAL Thermal/8K payload options.
5.
 Live Controller Video Feed:
 Control almost all aspects of your mission right off the 3.3 inch OLED screen with a battery life of 4 hours. No need for a mobile device and no account necessary.
Description:
Autel EVO II is the world's first 8K foldable drone on the planet! Autel EVO II 8k records in resolutions up to 7680x4320. With 48MP interchangeable camera, 1/2" CMOS sensor, EVO II drone capture content at resolutions up to a massive 8000x6000. F/1.8 fixed aperture and 4x lossless zoom allow you shot better image quality in the air.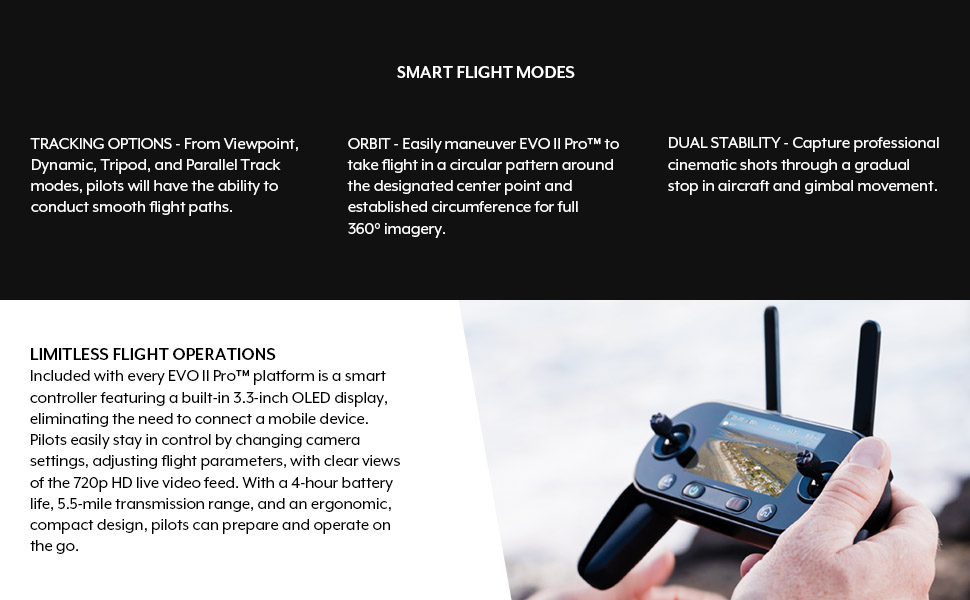 8K Resolution— 48 Million Pixels, 40MIN of Flight Time & 9KM Transimission
Autel Robotics EVO II Drone can capture images at resolutions up to 8000*6000. This resolution gives users flexibility to print up over 100 inches wide. With a 1/2-inch CMOS sensor, EVO II captures impressive 48MP photos, providing sharper images, greater detail, and richer color.
The Autel EVO 2 8K camera done comes standard with a 7100mAh rechargeable battery. Providing up to 40min of flight time in forward motion to up to 9km away and 35min at a hover.
EVO II foldable drone comes with 12 optical sensors controlled by a dual-core processor and AI machine learning, creates omni-directional protection at all important directions.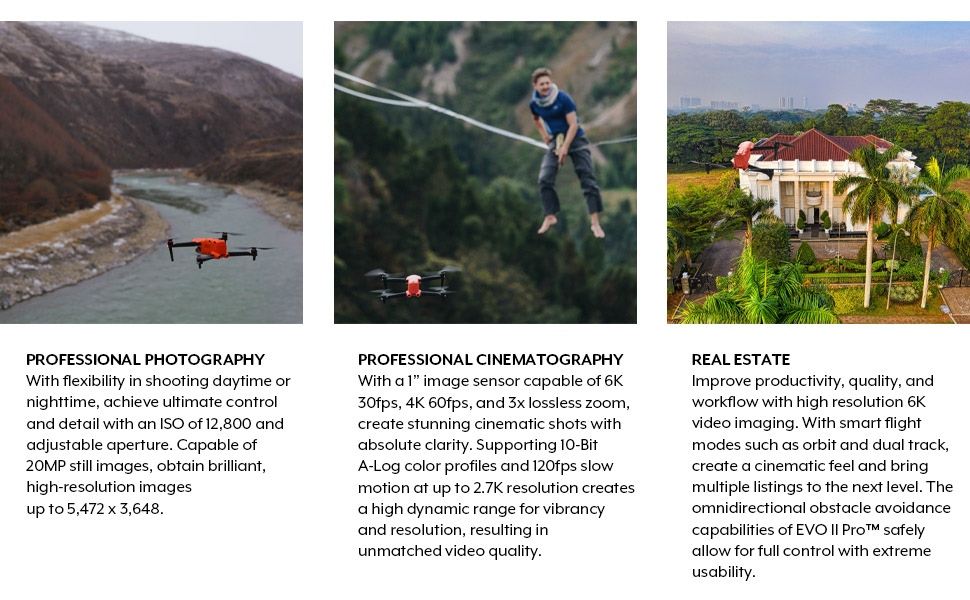 Autel EVO 2 Comes with Smart Remote Control
Autel EVO 2 comes with a smart controller featuring a built-in 3.3-inch OLED display, eliminating the need for a mobile device. You can easily have travel. With a four-hour battery life and an ergonomic, compact design, please fully charge the battery before flying.

Life in 33 Million Pixels
Autel EVO II 8k records in resolutions up to 7680x4320. With 16 times more pixels compared to HD and 4 times as many pixels compared to 4k, 8k video redefine image detail. The high resolution enables the ability to zoom deep into a scene, crop an image or video to 4k without any loss in quality and pushing color further than ever before.
Capture Every Detail
Partnering with Sony, the Autel EVO II's 48 megapixel sensor is superior to any aerial camera by providing sharper images, greater detail, and richer color.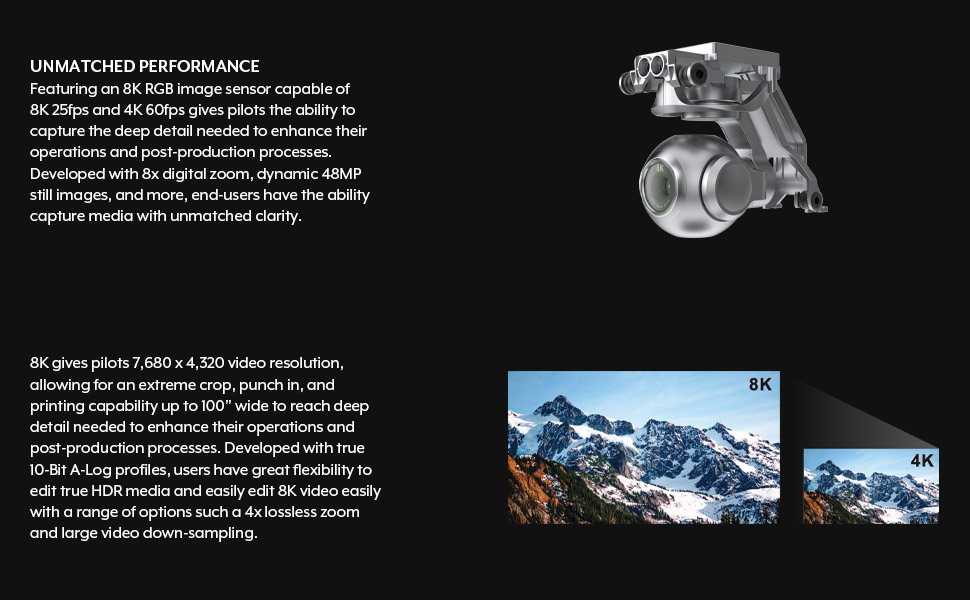 4K, 10-BIT HDR
4K HDR video with 16 Exposure Values (EV) control combines long-, medium- and short-term exposures into a single frame adding dynamic range. 10-bit color depth captures over 1 billion colors to provide greater flexibility in post production while still retaining rich details in the shadows and highlights.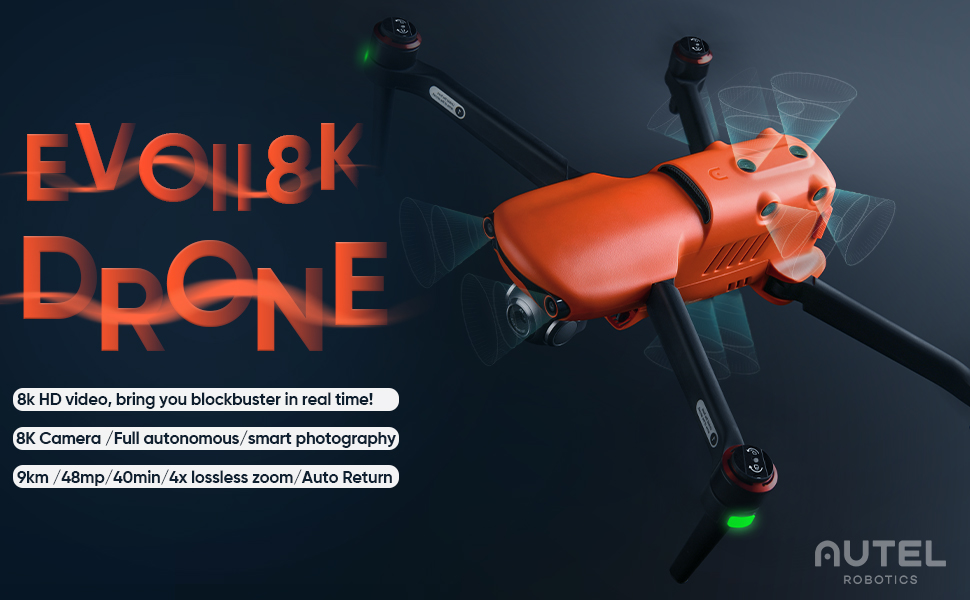 Only Autel offers Hyperlapse photography in 8K
With Hyperlapse mode, no post processing is required. The 8K images may be taken straight out of the drone and may be shared immediately. JPEG and RAW files are recorded simultaneously. Create perfect flight paths and achieve accurate, repeatable hyperlapse videos with just one click

LiveDeck: Stream Anywhere
Phase Detection Auto Focus
EVO II with LiveDeck Supports multi-port HDMI real-time output to meet the requirements of scene monitoring and live streaming.

Phase detection
 is precision Auto Focus that enables the tracking of fast-moving subjects accurately.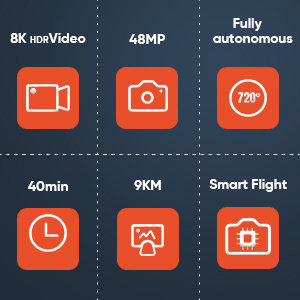 Takeoff Weight
: 1127g-1192g (2.48 lbs – 2.62 lbs)
Wheelbase
: 397mm (15.62")
Max Speed:
Standard: 15m/s (33.55 mph)
Ludicrous: 20m/s (44.73 mph)
Max Service Ceiling: 7000m/7km (4.34 mi)
Max Flight Time:
Hover: 35 minutes
Moving: 40 minutes
Transmission Type: FCC: 2.4GHz ALink
Max Transmission Distance: 9km (5.59 mi)
Storage:
Internal: 8GB
Max microSD: 128GB
Battery Type: LiPo 3s
Battery Size
: 3.3in OLED 330 Nits
Controller Battery: 5000mAh
Obstacle Avoidance
Sensing Type: 12 Omnidirectional computer vision sensors
Detection Range:
Forward: .5m—40m
Downward: .5m—22m
Backward: .5m—32m
Sides: .5m—24m
Upward: .5m—24m
FOV:
Forward: Horizontal 60° / Vertical 80°
Backward: Horizontal 60° / Vertical 80°
Upward: Horizontal 60° / Vertical 50°
Downward: Horizontal 60° / Vertical 50°  
EVO II Series Camera Specs 
| | | |
| --- | --- | --- |
|   | EVO II (8K) | EVO II Pro (6K) |
| Sensor | Sony 1/2.3" (IMX586) | Sony 1" (IMX383) |
| Sensor Resolution | 8000 x 6000 | 5472 x 3648 |
| Sensor Ratio | 4:3 | 3:2 |
| Video Format | MOV / MP4 | MOV / MP4 |
| Codec | H.264 / H.265 | H.264 / H.265 |
| HDR Support | Yes | Yes |
| AF Support | Yes | Yes |
| Defog | Yes | Yes |
| Histogram | Yes | Yes |
| 10-Bit Log | Yes | Yes |
| Aperture | f/1.8 | f/2.8—f/11 |
| Zoom | 1-8x (4x lossless) | 1-8x (4x lossless) |
| ISO Range: Video | 100-3200 | 100-6400 |
|  Photo | 100-3200 | 100-12800 |
Package Including:
1pc x EVO 2 8K drone
1pc x Battery (Pre-installed)
3pcs x Pair of Propellers (2 Pair Pre-installed)
1pc x 32G SD Card (Pre-installed)
1pc x Free 64G SD Card
1pc x Remote Controller
1pc x Battery Charger
2pcs x USB connection cable (Micro Type B & Type C)
1pc x Remote Control Cable - Type B
1pc x Charger