Autel ML529HD OBD2 Scan Tool Upgraded ML519 with Enhanced Mode 6/One-Key Ready Test for Heavy-Duty J1939 & J1708 with AutoVIN/Online Update/Print Data
Looking for help? or Get More Discount
Please contact WhatsApp:
+1 850 888 8336
Product Description
Autel ML529HD OBD2 Scan Tool Upgraded ML519 with Enhanced Mode 6/One-Key Ready Test for Heavy-Duty J1939 & J1708 with AutoVIN/Online Update/Print Data
Autel ML529HD, as a practical OBD2 scan tool specially designed to work with all OBDII compliant vehicles and heavy-duty vehicles (J1939 and J1708). It features the complete OBD2 functions with enhanced mode 6 access and the patented one-key I/M readiness test, therefore it is an excellent choice for vehicle repair work and indicator lights and codes diagnoses.
As the latest member of Autel's code reader tool family, the ML529HD can diagnose not only OBD II/EOBD-compatible vehicles but also heavy duty vehicles using SAE-J1939 and SAE-J1708 protocols.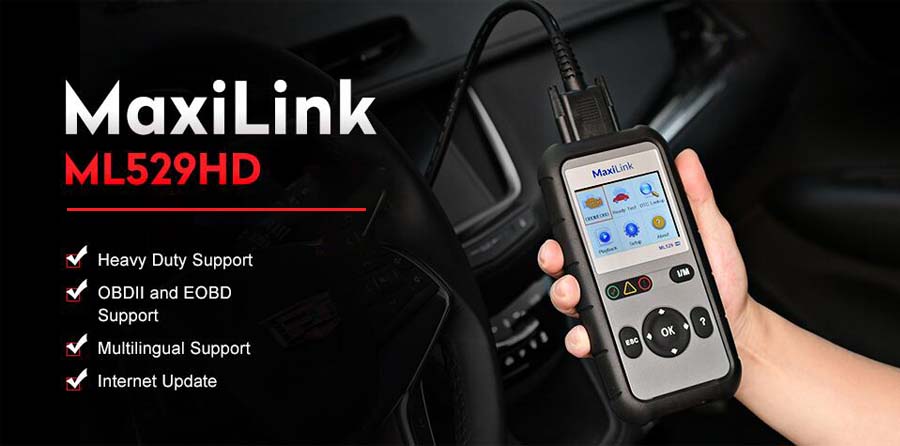 Product Features:
【
10 MODES OF OBDII】: Live data, freeze frame data of this diagnostic tool are effective to get quick & precise test results of your vehicle health status. Moreover, I/M readiness, O2 sensor test and on-board monitor test are great for passing the emission test smoothly.
【
UPGRADED ML519】: Compared with ML519, this code reader uses AutoVIN technology of the latest manufacturing standards, which reduces the emissions, eliminates the manufacturing defects and processes the data at a faster speed.
【
ENHANCED MODE 6】: The scanner features the enhanced mode 6 access to read the definition of an on-board diagnostic monitor ID, along with enhanced reading codes in Powertrain system for Ford, GM and Chrysler, for offering better insight into your car.
【
VEHICLES COMPATIBLE】: This diagnostic scan tool has been found to cover both diesel (J1939 and J1708) and gasoline vehicles which are OBDII protocol compliant. The enhanced compatibility of this scan tool makes it a solid choice for every DIYers and mechanics.
【
WARRANTY & UPDATE】: The Autel ML529HD carries a complete 12-month guarantee from the date of sale provided from Autel Headquarters in China, with free lifetime software update, to ensure it is reliable for your daily diagnostic work.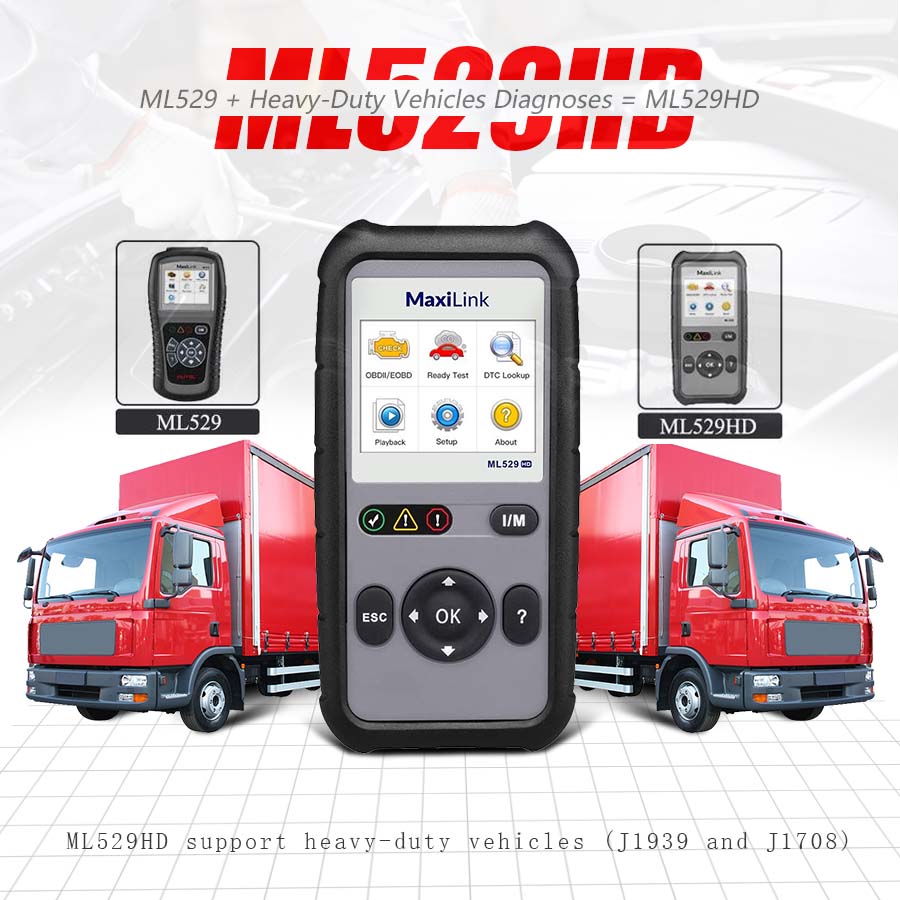 Product Functions
1. Compatible with heavy duty vehicles using SAE-J1939 and SAE-J1708 protocols
2. Compatible with domestic, Asian and European vehicles, 1996 and newer. OBD II/EOBD compatible vehicles (ISO9141, ISO14230, ISO15765, SAE-J1850 VPW, SAE-J1850 PWM)
3. AutoVIN function for quick manufacturer-specific code identification
4. Reads enhanced codes in Powertrain system for Ford, GM and Chrysler
5. Enhanced OBD II Mode 6 access
6. Retrieves generic (P0, P2, P3 and U0), manufacturer-specific (P1, P3 and U1) and pending codes
7. Retrieves vehicle identification information (VIN, CALID and CVN)
8. Easily determines the cause of the Check Engine Light/ Malfunction Indicator Light (MIL)
9. Turns off check engine light, clears codes and resets monitors
10. Views freeze frame data
11. Reads live PCM data stream
12. Displays live O2 sensor test data
13. Graphs data
14. Reads, stores and plays back live sensor data
15. Troubleshooter code tips & aid technician in efficient vehicle diagnoses and repair
16. Patented One-Click readiness key for quick state emissions readiness check and drive cycle verification
17. Color-coded LEDs and built-in speaker provide visual and audible tone for readiness verification
18. Multilingual (including English, Spanish and French) menus and DTC definitions
19. Internet updatable
20. Prints data via Windows-based PC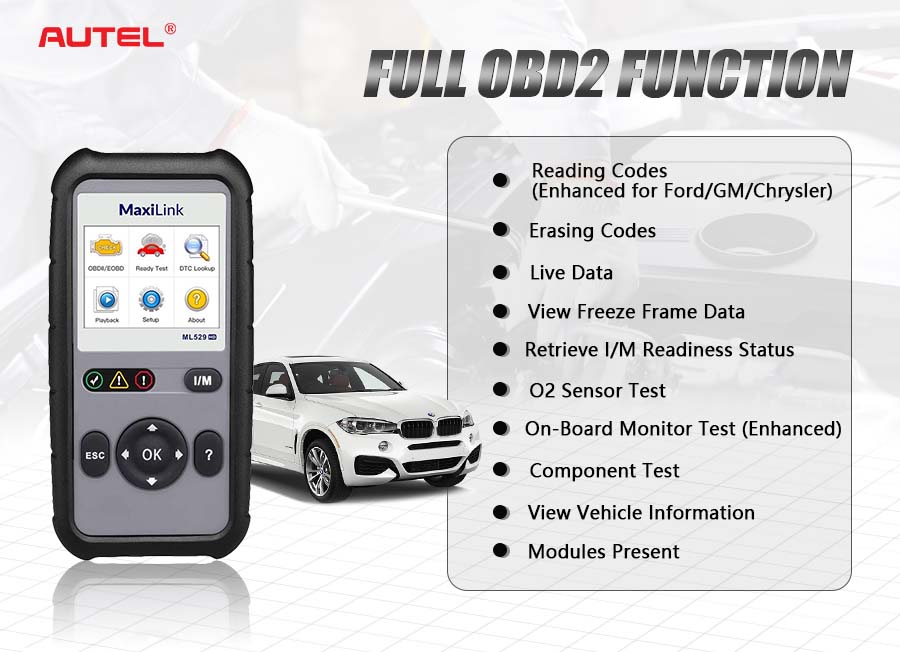 Product Specifications:
| | |
| --- | --- |
| Display | 2.8-inch LCD (320x240 dpi) |
| Connectivity | USB mini 2.0 OBD II DB15 |
| Operating Temp. | 0℃ to 60 ℃ (32℉ to 140℉) |
| Storage Temp. | -20℃ to 70 ℃ (-1℉ to 158℉) |
| External Power | 9.0 to 28.0 V power provided via vehicle battery |
| Dimensions (LxWxH) | 183 mm (7.2") x 91 mm (3.58") x 33 mm (1.3") |
| Weight | 242 g (0.533 lb.) |
Package Includes:
1pc x DEUTSCHE-6 Adapter
1pc x DEUTSCHE-9 Adapter
1pc x OBD II Cable 
1pc x USB Cable
1pc x User Manual
1pc x Quick Guide