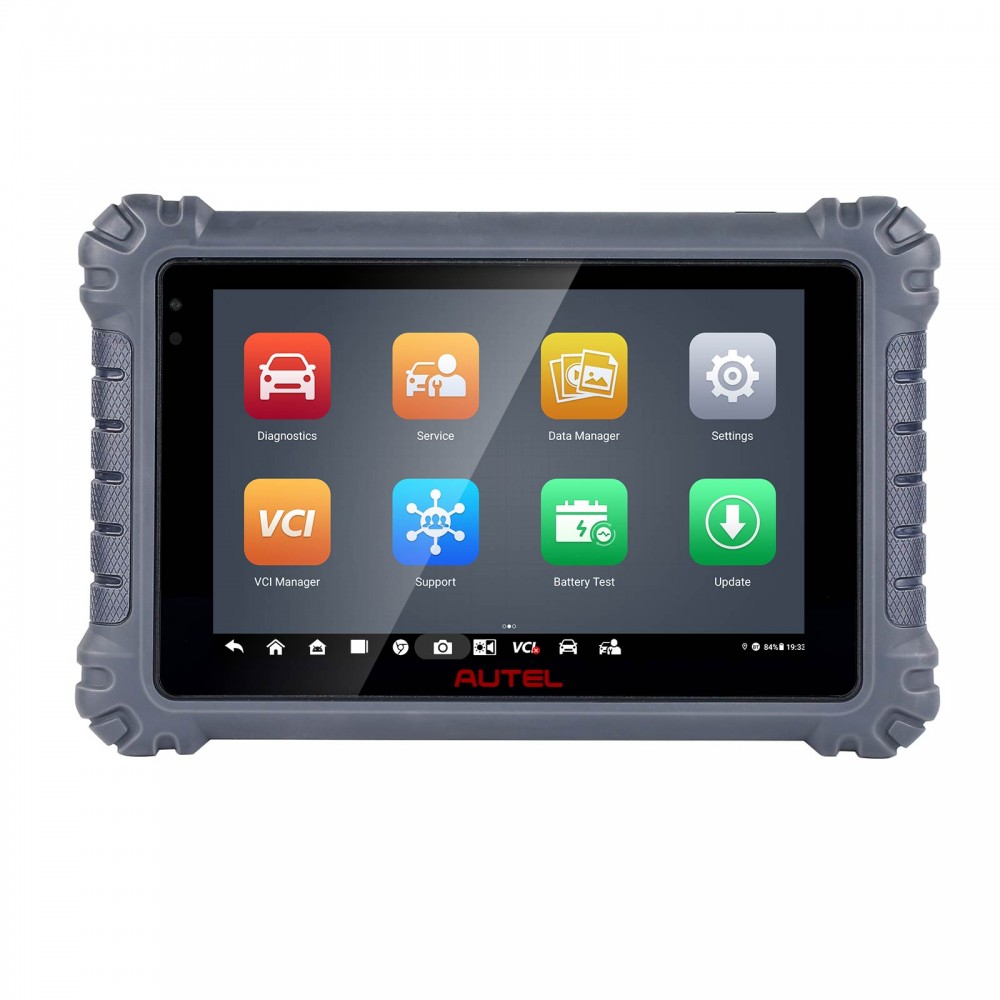 Autel MaxiCOM MK906 Pro Upgraded of MS906 Pro/MK906BT with Advanced ECU Coding, 36+ Service Functions, Active Test CAN FD FCA AutoAuth
Looking for help? or Get More Discount
Please contact WhatsApp:
+1 850 888 8336
Product Description
Autel MaxiCOM MK906 PRO Automotive Full System Diagnostic Tool
MaxiCOM MK906PRO is the latest addition to the MaxiCOM product line of advanced wireless diagnostic devices. The device is based on the Android operating system featured with the best possible coverage of OE-level diagnostics and ECU coding capability. Utilizing the powerful Exynos 5260 6-core processor (1.3 GHz quad-core ARM Cortex-A7 + 1.7 GHz dual-core ARM Cortex-A15), an 8" capacitive HD touch screen, and long-distance wireless communication, the MaxiCOM MK906BPRO efficiently provides comprehensive vehicle diagnostics and analysis
Highlights:
1. Global Version,
No IP Limitation
2. One Year Free Update Online on Autel Official Website. 
3. Powerful OE-Level
ECU Coding
for VW, Audi, Skoda, Ford, BMW, Porsche, Bentley
4.
Multi-Language
Supported: English, French, German, Spanish, Portuguese, Dutch, Polish, Swedish, Korean, Japanese, Russian, Italian
5.
Upgraded from MS906TS, MS906BT, MS908 and MS906PRO.
 Up-to-date software covers the most recent car models
6. Widespread Car Coverage: 150+ car manufacturers, 10,000+ models, still expanding for the latest makes and models.
7. Full system diagnostic+ Bi-Directional Control+ ECU coding+ 36+ Maintenance Functions
8. Work for global 10000+ vehicle models, and
Access FCA SGW
vehicles
9. Extended Functions: Videoscope, Battery Test BT506
10. Scan VIN/License; Pre & Post Scan (New Add)
11. with new MaxiVCI VCI200, Supports 
CAN FD and DoIP
protocol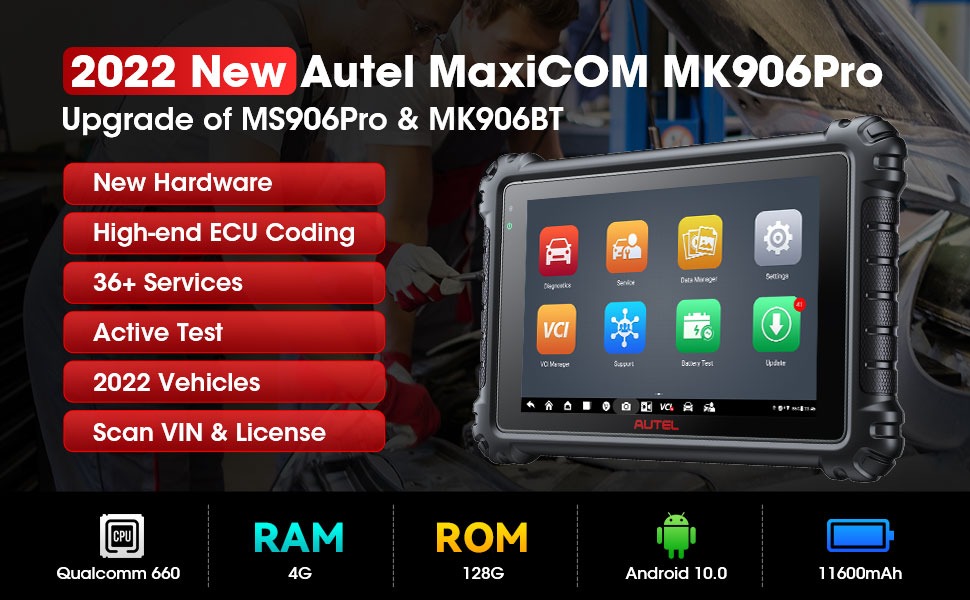 Software Features:
Advanced ECU Coding to Unlock Hidden Functions, Code/ Relearn/ Matching New E/CUs
BMW F and E chassis Coding, Porsche Coding, Ford Offline Adaptation
Perform Active Tests/ Bi-directional Controls
VAG Guided Functions: Compatible with VW, Skoda, Seat, Man LD, Bently, etc.
36+ Comprehensive Maintenance Services: Oil Reset / EPB Reset / TPMS Reset / BMS / Brake Bleeding / Aftertreatment / IMMO Keys / Injector Coding / SAS Reset / Suspension / Throttle / WIN DR ROOF / Seats / ODO Reset / Lang Change / Headlamp / CHG Tire Size / TEC Learning / ABS SRS / Cylinder / VTG Learn / Speed & PTO / Clutch Reset / Trans Adaption / Airbag Reset / A/F Setting / etc.
OE level Diagnosis on All Available Systems, 10000+ Vehicle Coverage
Auto Scan/ Auto VIN/ Scan VIN/ Scan Plate
Hardware Features:
8-inch, 1920 x 1200 high-resolution touchscreen tablet, Exynos Octa-core processor with 4G RAM, 128 GB storage, Android 10.0 operating system. Long-lasting 11,600mAh rechargeable battery, 16 MP front camera and 16 MP rear camera. MaxiCVI VCI200 interface (compatible with CANFD) supporting ultra long diagnosis distance and stable communication.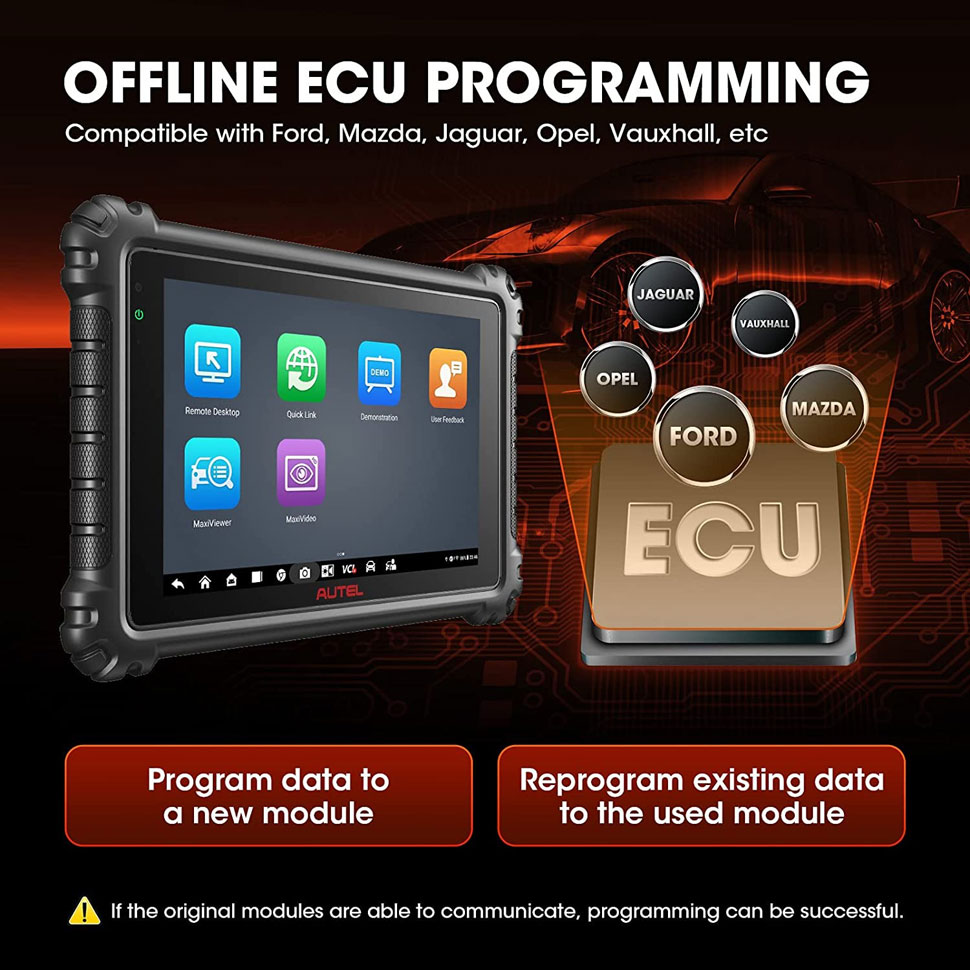 Expanded Functions (With Additional Purchase):
MaxiCOM MK906PRO, which supports various expanded functions (sold separately), can make its diagnostics much more precise & reliable.
Compatible with Autel MaxiVideo MV108 Digital Inspection Camera/ Video Scope, to examine difficult-to-reach areas normally hidden from sight, like the engine, fuel tank, etc.
Compatible with MaxiBAS BT506 Battery Tester, you can test vehicle battery, check cranking/ charging systems.
NOTE: 
TPMS
The TPMS application is used to check the TPMS sensor conditions, program the MXSensor,
Perform the TPMS Relearn procedure and basic TPMS diagnostic functions.
Note: The TPMS service operation is available for MK906 Pro-TS only, here is the purchasing link
 

Extensive Vehicle Coverage:

Asia:
Acura, Daewoo, Daihatsu, Honda, Hyundai, Infiniti, Isuzu, Kia, Lexus, Maruti Suzuki, Mazda, Mitsubishi, Nissan, SsangYong, Subaru, Suzuki, Toyota, GTR, Scion

Europe:
Benz, Sprinter, BMW, Fiat, LandRover, Maserati, Opel, Peugeot, Porsche, Lancia, LT3, Maybach, Mini, Seat, Skoda, Vauxhall, Renault, Saab, Smart, Volvo, Volkswagen, Abarth, Alfa, Audi, Bentley, Citroen, Dacia, Ford, Jaguar, Lambor Ghini

USA:
GM, GMC, Ford, Chrysler, Dodge, Jeep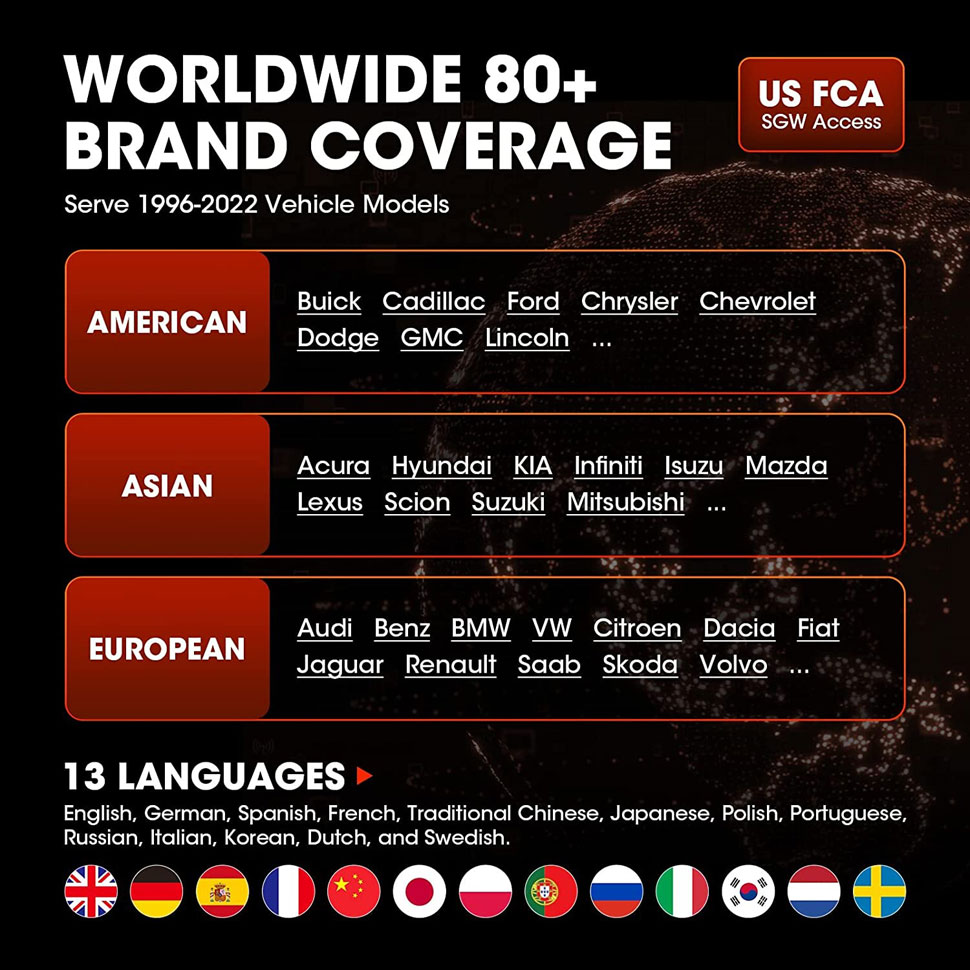 Why Choose Autel Scanner MK906 PRO?
 
Better Hardware: Come with Android 10.0 to make you use easliy and process faster.
MK906 PRO equipped with a 16MP Dual Camera, can make you take a photo when wroking, also can work with inspection tool MV108/ MV105 to unlock more function.
Support more extended function: Scan VIN, Printing via WIFI, work with DoIP/ CAN FD Potocols
Autel MK906 PRO specifically designed for online sales, wide coverage of use area, support 21 languages
 
What Is New About The MK906 Pro?
New Hardware: Android 7.0 OS, 8-inch 1920 x 1200 screen, Exynos Octa-core processor, 4G RAM, 128 GB storage, 11,600 mAh battery, 5 MP front camera, 16 MP rear camera
New Software: New software platform upgrade, latest diagnosis software with updated functions and covers more 2020/2021 new vehicles, light/ medium duties for super smooth and accurate performance.
New Features: Autel MK906 Pro is not identical with its precedents such as MS906/ MS906BT or others with only fixed functionalities, Autel MK906 Pro smart diagnosis scanner has been remarked with built-in battery test ability and access to Autel Cloud Services, includes Remote Expert, Report Management, AccuFix Repair Database. Integrated with those valuable functions, MK906 Pro not only meets all your demands for a car repair and maintenance shop, but also a cutting to edge business boosting assistant.
New Affordable Budget: With all-round upgrade in hardware and all the added functions, MK906 Pro is the most affordable smart scanner for mechanics. Tried of the old Android platform and slow response feedback from your old scanner? It's time to go for a total new experience.
2022 Newly Expanded Functions:


1. Pre/Post Scan Report:
Pre & Post Scan reports are now available on the MK906Pro Autel scanner. These new features make it easy to document the vehicle's pre-repair and post-repair condition. The Pre & Post Scan reports will be combined into a single report file that can be saved to the repair shop system, printed, or mailed to the customers.

If You Are The Technician: You can create a more efficient repair plan from the start and confirm all the faults being solved after repairing.
If You Are The Customer: You can accurately know your vehicle problems and avoid the unreasonable charge
2. WiFi Printing:
Now you don't need to find your PC and perform many operation steps for printing a report. One-click WiFi Printing, click the "Print" from your MK906 Pro Scanner and you'll get the report right away. The original printing via PC-Link is retained, and you can choose freely.
3. Battery Test:
This OBD2 Automotive diagnostic scan tool has been designed with built-in battery test ability. With the additional Autel MaxiBAS BT506 Battery Tests, MaxiCOM MK906 Pro can help you test all 6V and 12V 100-2000CCA batteries including the most regular Flooded, AGM, AGM Spiral, EFB and GEL batteries. It can perform in-vehicle & out-of-vehicle tests to determine the health status of the battery, the starter, and the generator respectively.
4. Autel Cloud Management:
Through Autel Cloud Service, you can uploade Data and Diagnostic Reports to Autel Cloud Management without loss and share reports with customers through QR Code/ email/ text message easily, so that customers can view the reports at cellphone anytime.
5. DoIP/CAN FD And FCA AutoAuth:
● MK906PRO scanner support DoIP/CAN FD Protocols;
● FCA AutoAuth: No more extra cost to buy the 12+8 adapter! Now Autel has released FCA Auto Auth Function for FREE on FCA cars after 2018 (Chrysler Dodge Jeep Fiat) in the US, Canada and Mexico, which covers wider vehicles and helps technicians win more business.
 
MK906Pro Scanner Funtions:
1. OE-Level All System Diagnostic:
MaxiCOM MK906 Pro auto scanner reaches all available systems, such as Engine, Transmission, ABS, SRS, IC, BCM, Air Conditioning,IMMO, Air Suspension,
Airbags, Cruise Control, etc, to perform the same level of diagnostic and maintenance as the OEM dealer. The MS906 Pro diagnostic scanner examines all vehicle
systems to read codes, clear codes, view live data, etc, which heightens the diagnostic efficiency and reduces the diagnostic fee.
For Instance:
Engines/ Auto Transmission/ Airbags/ Immobilizer/ABS/ Cruise Control/Instruments/ Self Leveling Suspension systems/Seats/ Doors/ Gateway/ Steering Angle/ Air Suspension/ Body Systems/ Electronic Parking Brake & Motor Assisted/ Power Steering/ Tyre Pressure / Rain Sensors / Stabilizer/ Intelligent Parking Assist/ Door Motors/ Audio Systems/ Air Conditioning/ Tiptronic/ Anti-Theft/ Soft Top/ Headlamp Leveling/ Automatic Clutch/ Headlights/Wash Wipe/ Cruise Control/ Multi Function Steering Wheel/ Aux Heating/ Clutch Electronics, etc.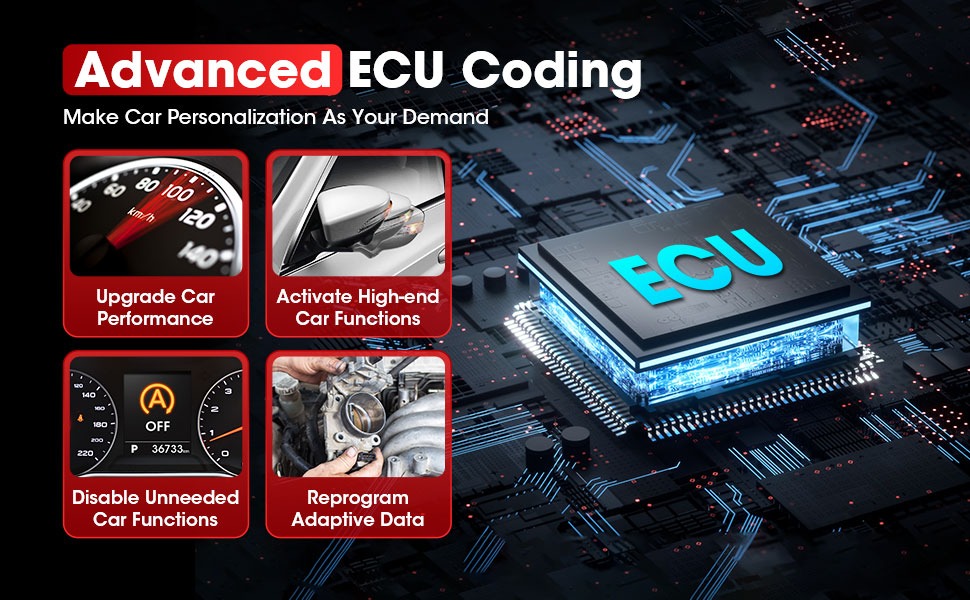 2. Advanced ECU Coding:
1 ECU Coding:
1) Compatible with Volkswagen, BMW, Seat, Porsche, Renault, etc.
2) Reprogram the adaptive data for certain components after repair or replacement.
3) Flash the hidden features (auto start-stop, reverse tilt mirrors, foldable mirrors, customizing interior lights, etc.).
4) Customize the OE settings (setting alarms, door locking, etc.).
5) Enhance the vehicle performance (provide a solution for power loss, fuel efficiency, etc.).
2 Online ECU Coding:
1) Compatible with Volkswagen, BMW, Seat, Porsche, etc.
2) Obtain the online data from the server and no need to match ECU manually.
3) Code your car fast and easily via the Internet to solve your car's problems.
4) Restore the vehicle functional status after replacing the onboard modules.
3 ECU Module Replacement:
1) Compatible with Asian cars like Honda, Nissan, Toyota, Hyundai, Kia, etc.
2) Introduce the new ECU module replacement to the car system and make the cars run smoothly.
3. HOT Service Functions
Aside from the typical functions that you might expect such as oil reset, there are plenty of others that are great additions to this Autel MaxiCom diagnostic tool MK906 Pro. You can complete 99% repairs and general maintenance using dealership-level relearn procedures. Check out the following list:
1) Oil Light Reset: reset the oil service lamp after changing the engine oil; re-calculate the optimal oil life change interval.
2) Steering Angle Reset: reset the steering angle to zero to keep the car running straight.
3) Injector Coding: write the new injector code into the car system for the correct cylinder injection quantity.
4) Electronic Parking Brake Reset: help replace and reset the brake pad.
5) ABS Bleeding: help exhaust the air in ABS in an easy way.
6) Throttle Adaptation: initialize the throttle actuators to the default state.
7) DPF Regeneration: help remove the particulate matter to keep the trap stable.
8) Suspension Level Calibration: adjust the vehicle body height sensor for level calibration.
9) Headlight Matching: initialize the adaptive headlamp system.
10) Gearbox Matching: help complete the gearbox self-learning to improve gear shifting quality.
11) Sunroof Initialization: initialize the sunroof when to be locked off, or closed.
12) Tooth Learning: help to finish tooth learning after changing the crankshaft in the car engine.
And many more. The new service functions keep rolling out from Autel, including expanded coverage for the latest vehicle makes and models.  
Access FCA SGW Vehicles
2022 MK906Pro scanner is allowed to diagnose US FCA vehicles and is compatible with Fiat, Chrysler, Alfa Romeo, Dodge, etc. (2017 and later).
Prerequisites:
1) Register an AutoAuth account for MK906Pro;
2) Connect to the Internet when using it;
3) The MK906Pro scan tool must have an active updating for the newer version of diagnostic software.

Autel MK906 Pro vs MK906BT vs MS906 Pro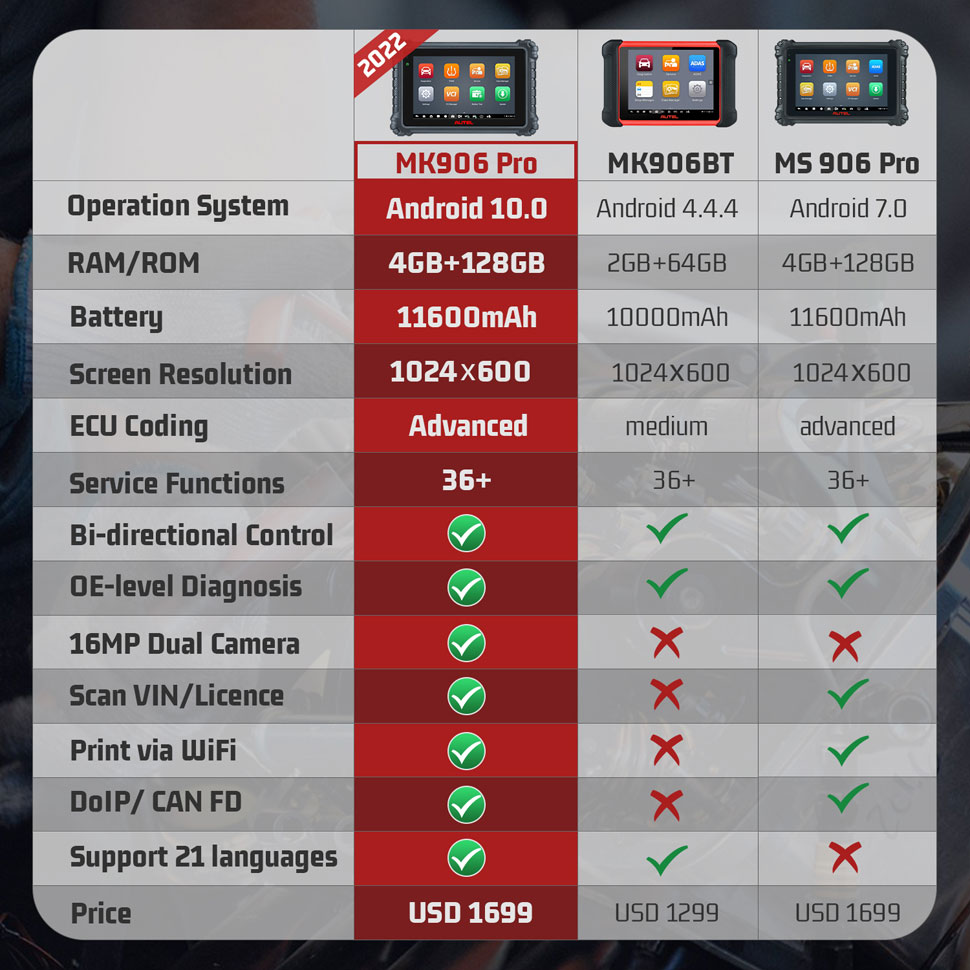 Package List:
1 x MK906PRO Main Unit
1 x MaxiVCI V200
1 x AC/DC Adapter (12V)
1 x Type-C USB Cable
1 x Auxiliary Power Outlet Adapter
2 x Spare Fuse 6x30mm
1 x USB to Ethernet Adapter
1 x Quick Reference Guide
1 x Packing List
1 x Soft Cloth
1 x Carrying Case