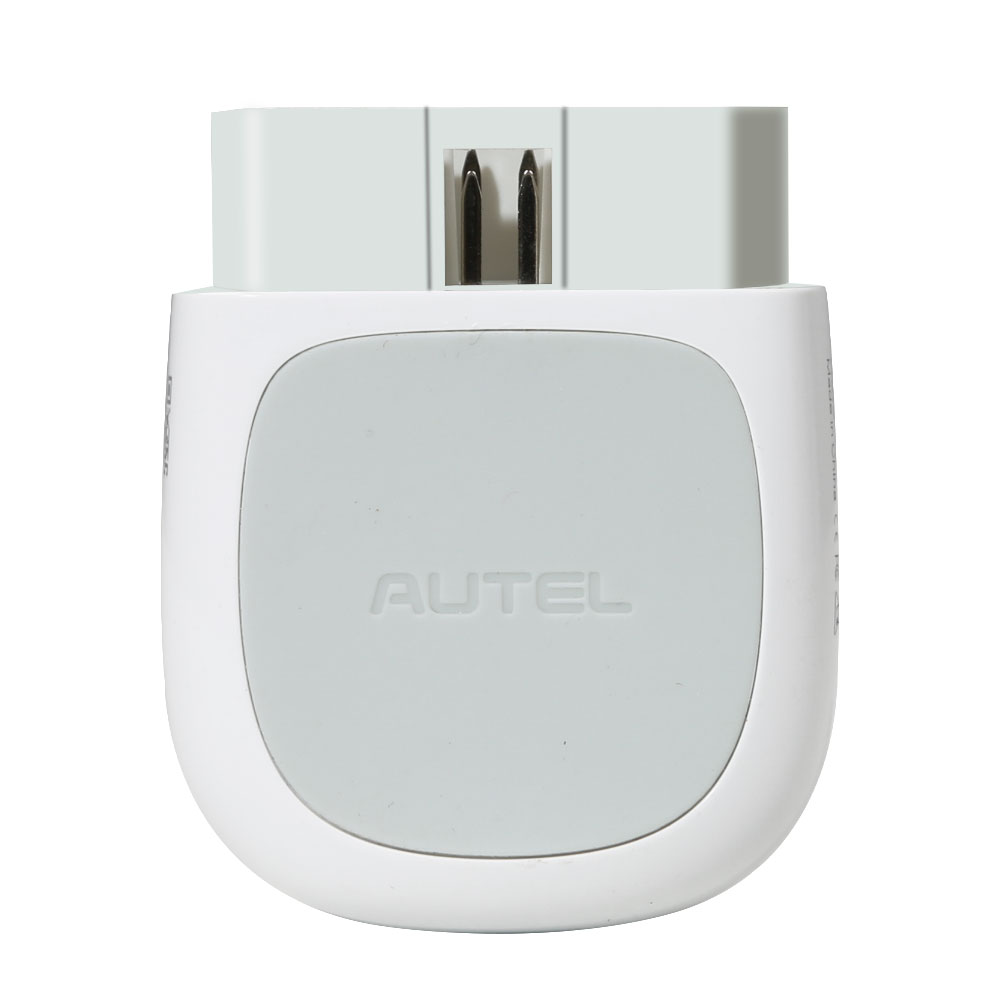 100% Original Autel MaxiAP AP200 Bluetooth OBD2 Code Reader with Full Systems Diagnoses AutoVIN TPMS IMMO Service
Looking for help? or Get More Discount
Please contact WhatsApp:
+1 850 888 8336
Availability:
Out Of Stock
Weight: 0.40kg
Size (LxWxH):
25cm x 16.50cm x 3cm
Product Description
Autel MaxiAP AP200 Bluetooth OBD2 Code Reader with Full Systems Diagnoses AutoVIN TPMS IMMO Service for Family DIYers
Top 10 Reasons to Get Autel AP200:
1. Simplified Edition of MK808
2. Convenient Usage: Bluetooth pairing
3. All OBDII functions are available and free
4. One free vehicle's software with the initial purchase
5. Support up to 19 specific functions, including Oil Reset, EPB, BMS, SAS, DPF, TPMS, IMMO, etc.
6. Expand coverage with additional in-app purchase
7. Auto VIN technology identifies vehicles automatically (AutoVIN Retrieval Boost in Effectiveness)
8. Generate repair reports of tested vehicles and support PDF format for easy sharing and printing
9. Keep records of vehicles tested previously
10. Multi-Languages Supported: English, traditional Chinese, French, German, Spanish, Portuguese, Dutch, Polish, Swedish, Korean, Japanese, Russian, Italian

Free Download AP200 Quick Guide(PDF)
Free Download AP200 Diagnose Display(PDF)
Free Download AP200 User Manual(PDF)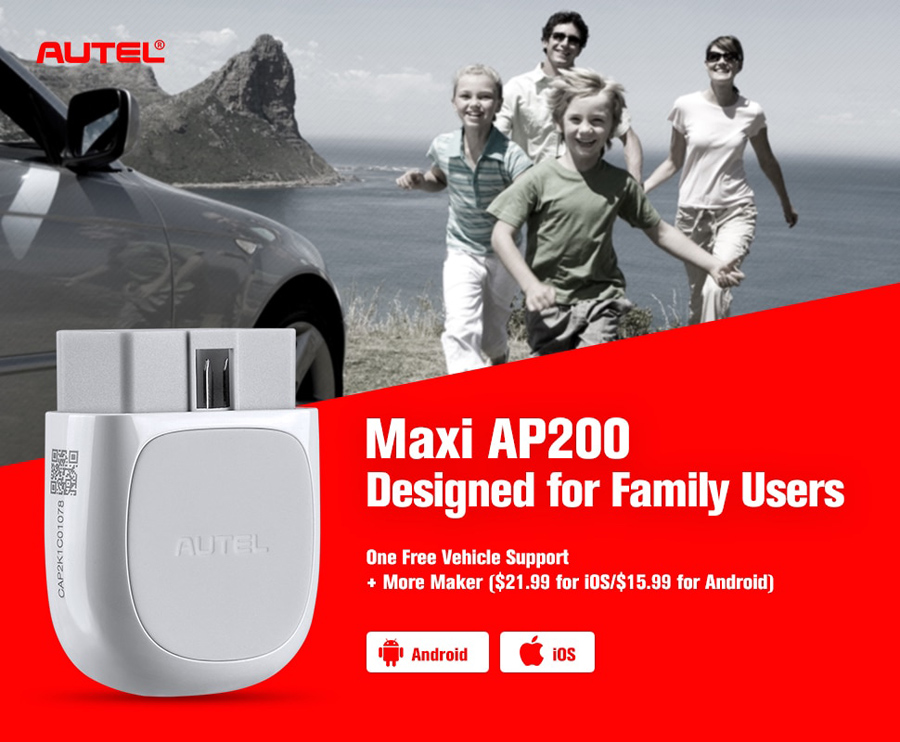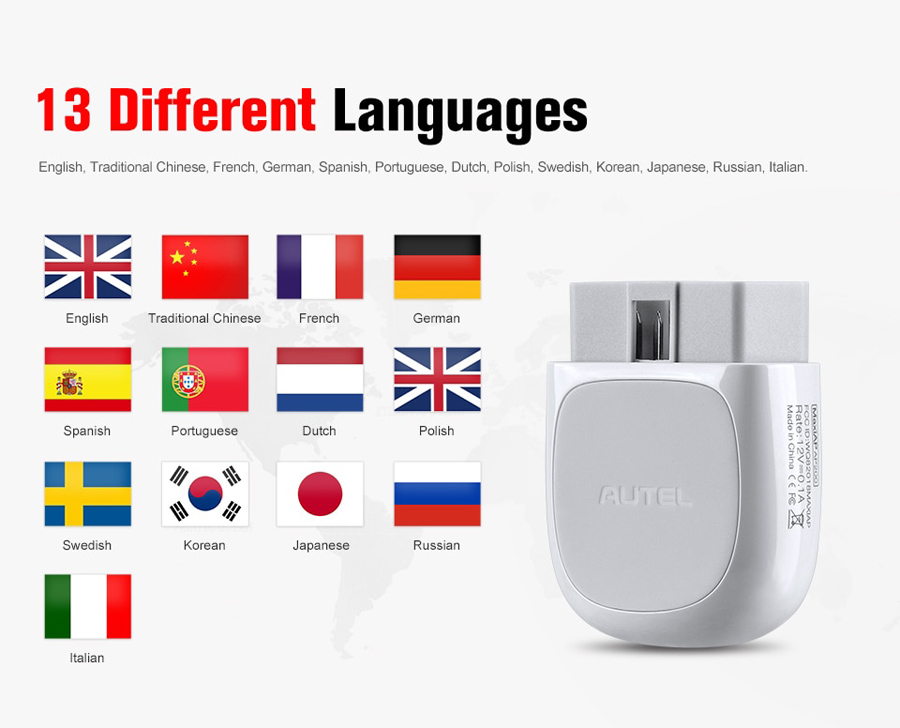 1.
BLUETOOTH CONNECTION
: This portable OBD2 scanner is characterized by Bluetooth connection, and you can download the free APP "MaxiAP200" on your iOS or Android devices to get the car diagnosis going on without any worries about the compatibility.
2.
VERSATILE CAR DIAGNOSIS
: As an innovative obd2 scan tool, this AP200 includes but is not limited to OBD2 functions, it also provides users with a wide variety of reset services including Oil/EPB/BMS/TPMS/SAS Resets, DPF Regeneration and IMMO Service.
3.
HIGH COST PERFORMANCE
: This obd2 scanner offers one free vehicle-specific software allowing you to diagnose one car for free, and you need to spend only $21.99(Android) /$21.99(iOS) buying 12-month use permission of one more car model.
4.
SPECIAL AUTOVIN FEATURE
: The Auto VIN function of the AP200 helps quickly reveal car's info, including the vehicle type, country of origin, engine size, etc. and the report about the car info can be transformed as PDF file for better PC Printing.
5.
HISTORY RECORDING DISPLAY:
While offering you detailed diagnostic result, this car scanner is capable of recording history diagnostic information and the history recordings can be used as an effective data reference in the period of car diagnosis.
Autel, as one of the world's leading manufacturers in the automotive aftermarket, dedicates itself to developing professional diagnostic tools and translating global clients' needs into superior cost-effective and innovative products with strong R& D and production capabilities.
Autel AP200, as an innovative Bluetooth OBD2 scanner, equipped with its own App - "Maxi AP200", complete OBD2 functions, along with various reset services (Oil/EPB/BMS/TPMS/SAS Resets, DPF Regeneration and IMMO Service etc.), is a compact option for family DIYers to troubleshoot vehicle's issues in no time.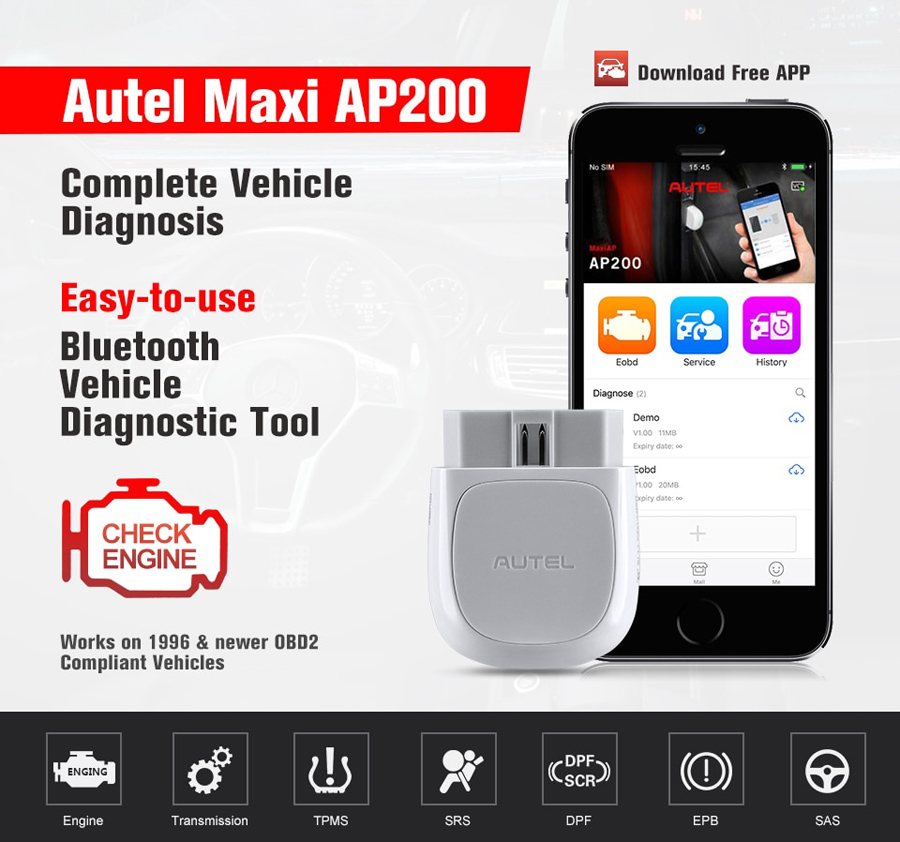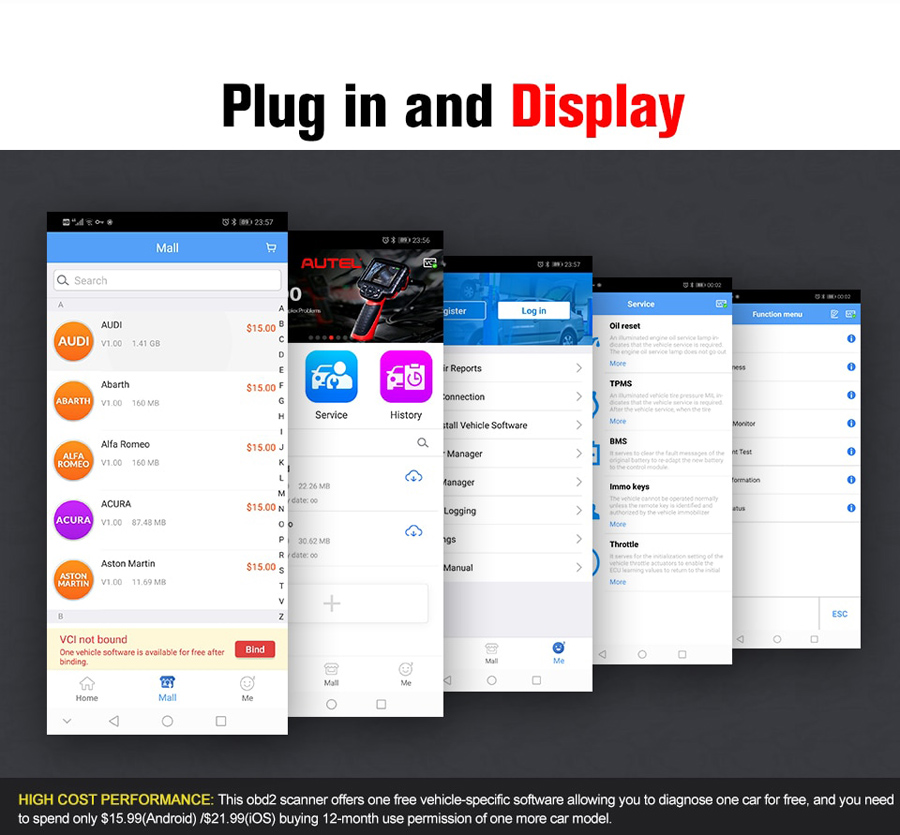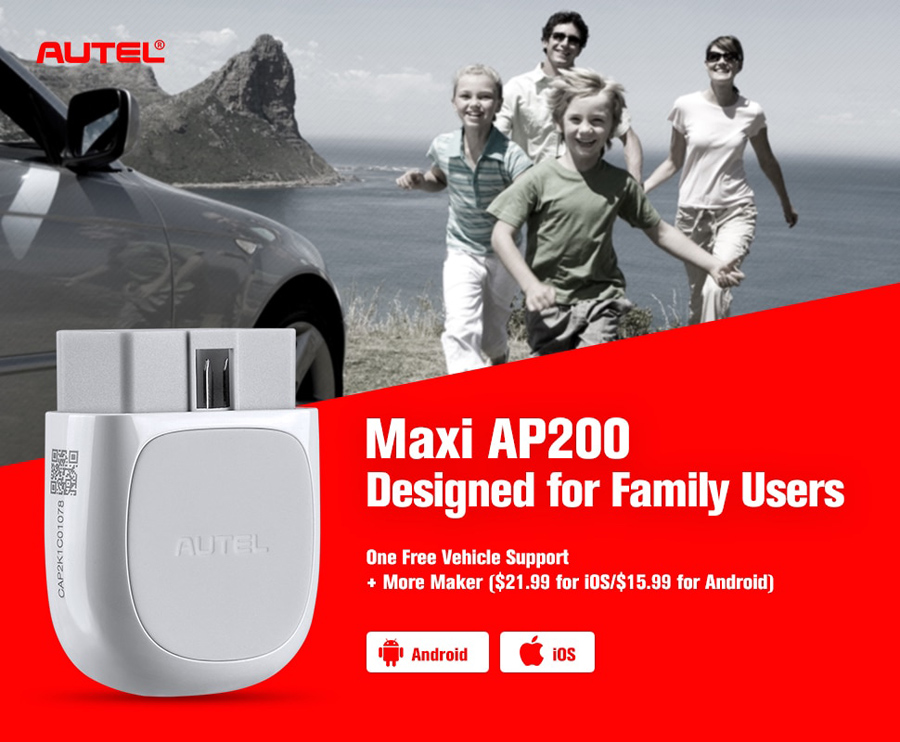 l SUPERIOR SYSTEMS DIAGNOSES
The active test used to access vehicle-specific subsystem and component tests.
Erase the codes easily after DTCs retrieving and certain repairs have been carried out;
Read DTCs from the vehicle's control systems to locate problem areas, and offer solutions;
Live data shows each parameter item displayed in analog, text, waveform graph modes etc.;
With superior systems diagnoses, this multipurpose obd2 scanner can be used to read all available systems' ECU information to facilitate the vehicle diagnosis. The complete systems vary from different cars and they usually include Engine, transmission, ABS, SRS, SAS, TPMS, EPB and Fuel systems etc.
l ADVANCED RESET SERVICES:
This Bluetooth OBD2 scanner is specially designed to provide you with quick access to the vehicle systems for various scheduled service and maintenance performances. There is some commonly-used special reset services are listed for your reference:
IMMO Service
- Disable the lost vehicle keys and program the replacement key fob.
TPMS Reset
–quickly look up the tire sensor IDs from the vehicle's ECU, as well as to perform TPMS replacement and sensor test.
DPF Regeneration
–Manage DPF regeneration, DPF component replacement teach-in and DPF teach-in after replacing the engine control unit.
BMS Reset
–Evaluate the battery charge state, monitor the close-circuit current, register the battery replacement, and activate the rest state of the vehicle.
Oil Reset
–Perform reset for the Engine Oil Life system, which calculates an optimal oil life change interval depending on the vehicle driving conditions and climate.
EPB Reset
–Maintain the electronic braking system safely and effectively by deactivating and activating the brake control system, setting brakes after disc or pad replacement, etc.
SAS Reset
–perform calibration for the Steering Angle Sensor, which permanently stores the current steering wheel position as the straight-ahead position in the sensor EEPROM.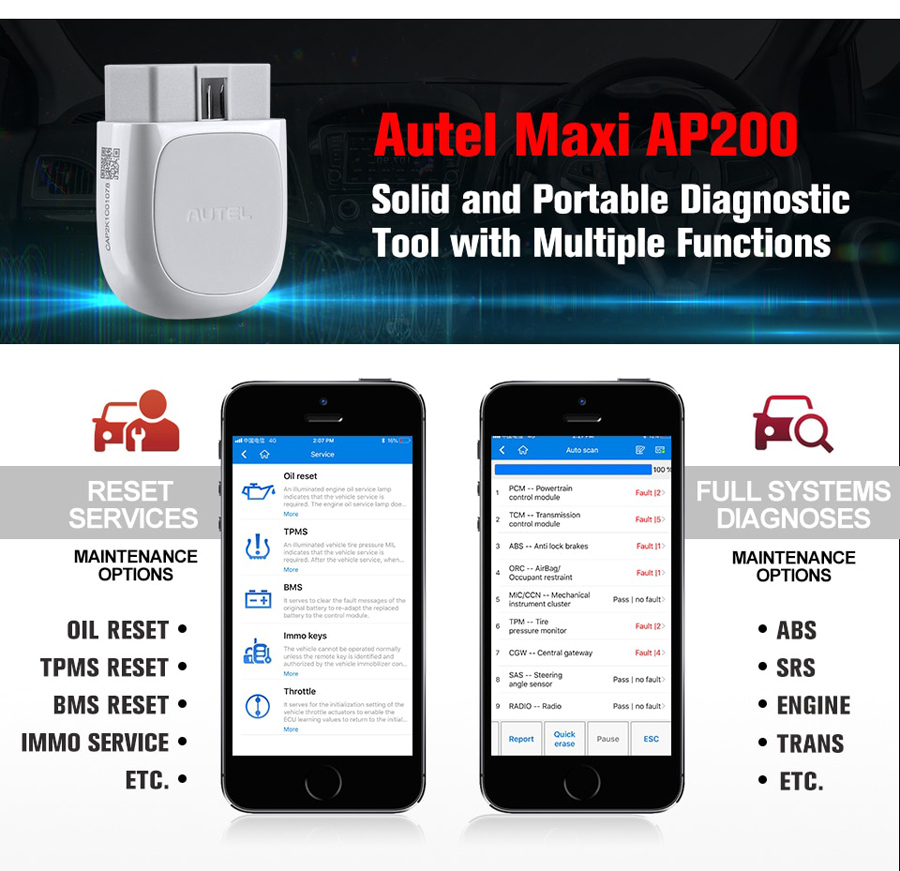 l COMPLETE OBD2 FUNCTIONS:
Retrieve the vehicle information of VIN, CINs, and CVNs completely
Perform O2 sensor test to check fuel efficiency and vehicle emissions
Clear detected fault codes and turn off the Check Engine Light efficiently
View graphical live data of vehicle's computer module(s) for easy analyses
View the vehicle's operating parameters at the moment a DTC is detected
Read extensive current, pending and permanent codes in OBD system quickly
Read I/M readiness status to have a vehicle inspected for state emissions compliance
Read the results of on-board diagnostic monitoring tests for specific components/systems
Perform the component Test by allowing initiating a leak test for the vehicle's EVAP system
19 Service Functions – Easier and more Comprehensive Vehicle Maintenance
Useful Oil Reset
You have just changed your vehicle's motor oil and oil filter, brought the used oil to a local recycling drop-off location, and accomplished the mission. However, the oil change maintenance light is still on.
Injector Coding
If the injector is replaced, you need to write the new injector code into the ECU, or rewrite the code stored in the ECU to the code corresponding to the cylinder nozzle, to accurately control or correct the fuel injection amount of each cylinder.
Other Service Functions
Additionally, the OBD2 code scanner AP200 also supports 17 more service functions for better vehicle diagnostics and maintenance, including: EPB/BMS/TPMS/Brake Bleed/DPF/IMMO Keys/SAS/Suspension/Throttle/WIN DR ROOF,Seats,Odometer,Lang Change,Headlamp,CHG Tire Size,TEC Learn,Trans Adaption.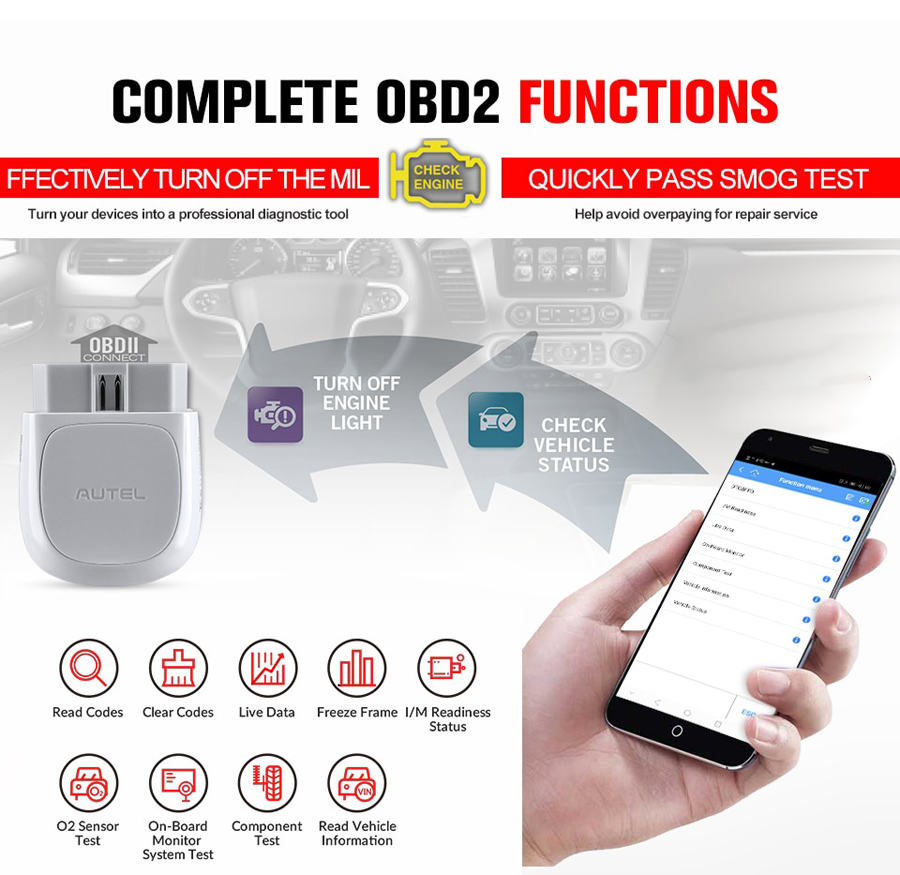 l THE OPERATING PROCEDURES:
1. Download and install the app-MaxiAP200 in Google Play or App Store to your device;
2. Register and log in the MaxiAP200 APP;
3. Get one free car software through Mall after binding VCI for the first time;
4. Plug the MaxiAP200 tool into the vehicle's Data Link Connector (DLC);
5. Turn on the vehicle ignition while turn the engine off;
6. Tap Me/Setting button of your device to pair the MaxiAP AP200 with your device;
7. Start to diagnose your car.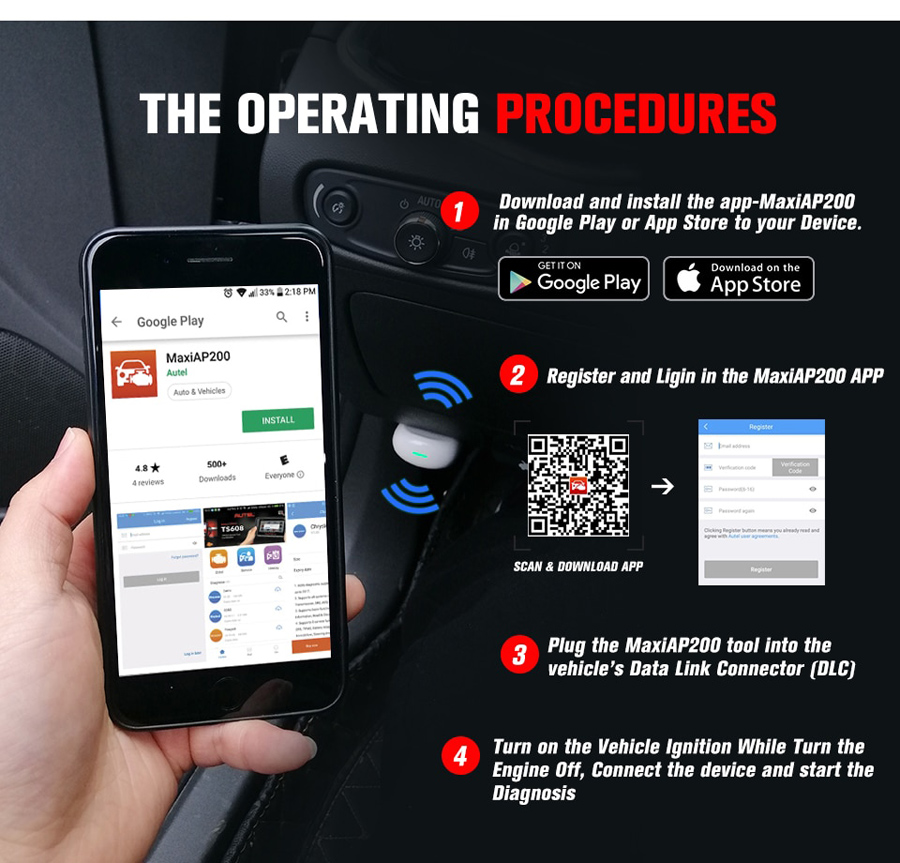 Vehicle Coverage:
If you are not sure about the compatibility between this obd2 scanner and your car, please feel free to contact us.
Notice:
Pay $21.99(Android Device) or $21.99(iOS Device) for software of another specific vehicle, and then gain specified car's systems diagnoses and reset services
Warm Tips:
Welcome to get technical support via email/Q&A, or hotline on our official site, if you have any questions about the Autel AP200.
Warranty:
12-month warranty for any quality problems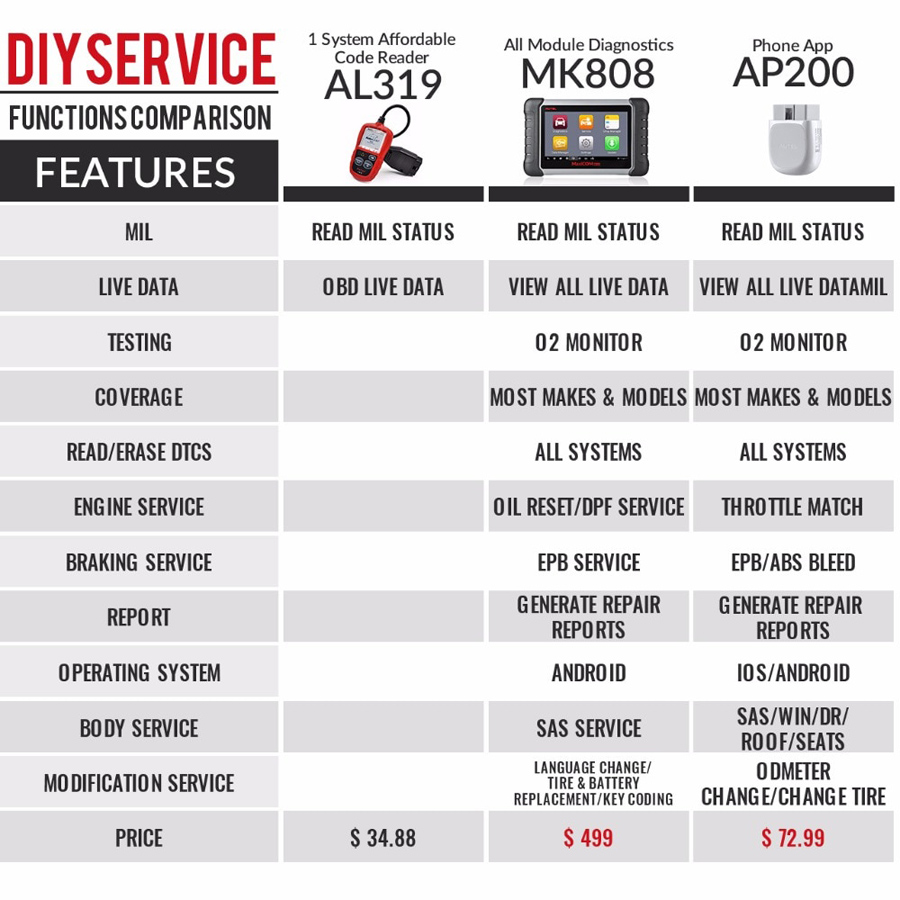 Specifications:
Communications: BL 4.2 Dual-Mode
Wireless Frequency: 2.4 GHz
Input Voltage Range: 9 VDC to 26 VDC
Supply Current: 100 mA@12 V
Sleep Mode Current: 3 mA@12 V
Operating Temp.: 0°C to 50°C
Storage Temp.: -20°C to 70°C
Length\Width\Height: 59.2 mm (2.33") * 48.5 mm (1.91'') * 24.6 mm (0.97'')
Weight: 35g (0.07 lb.)
Package List:
1pc x Autel MaxiAP AP200